What do you need to do beat procrastination and smash your writing project?
A great idea, a calm environment, loads of time, zero interruptions and of course – absolutely no internet.
Yeah right!
You live in the real world which means there's a zillion other things that stop you from getting down to your writing project.
What you don't need is someone telling you to just "find the time and get it written".
What you do need is a practical system to help you write it - which is where we can help.

If you're procrastination prone and you struggle to get down to writing – you need this course.
We've been learning about writing psychology and the science of productivity and goal-setting for years - we've condensed all we know into this course.
In 21 super-practical, science-backed lessons and challenges you will learn:
How to use systems and routines to write unthinkingly.
Techniques to help you identify and smash your procrastination gremlins.
How to schedule and prioritize your time so you stop 'trying to find the time to write' and spend more time writing.
How to set a goal setting system which helps you approach your large goal in small steps.
You'll learn how to keep yourself on track with using accountability methods.
How to plan writing into your day using 'when-then' planning - a proven psychological approach.
How to optimize your writing routine keep writing using reflection and tracking and our favourite productivity methods to keep you writing.
What people are saying:
I did your procrastination course a couple of weeks ago and it was the most useful thing. Am now, from nothing, up to 500 - 1000 words a day every day by just making simple change that I write before I'm allowed my morning cup of tea! Genius. - Isla Telford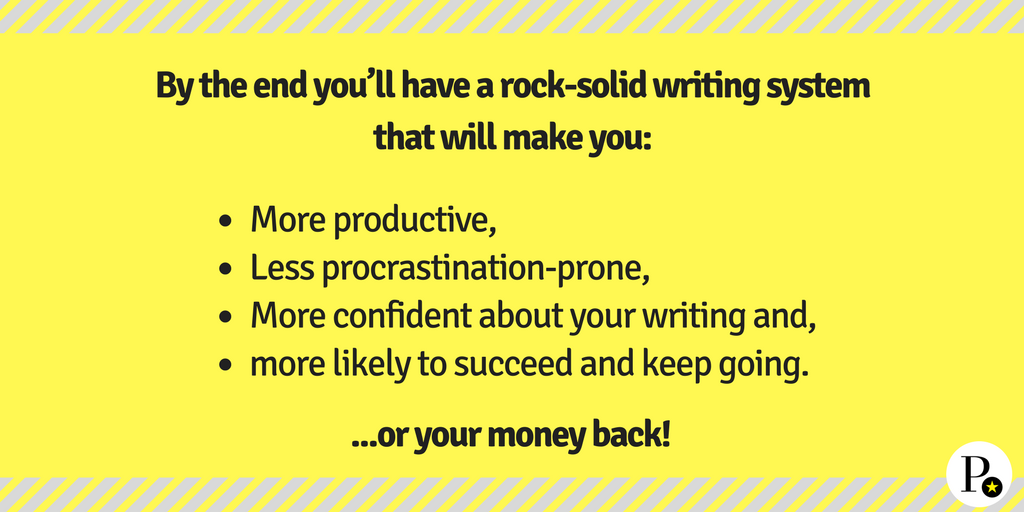 If you're struggling to write or just need a friendly push in the right direction - we would love to have you aboard.
Whatever you want to write - we can help you get it written and develop a routine that will last a lifetime.
Let's get you writing! Join the course now.